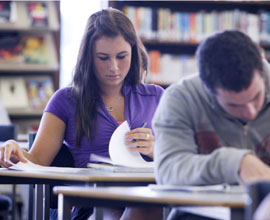 Image source:
Vic Department of Education
The government's
Statement on Higher Education
announces savings measures in three areas. Reaction from, and on behalf of, the higher education sector has been negative. The peak body representing universities, Universities Australia, has
condemned the cuts
.
Yet it is not the universities that will bear the brunt of the savings but their students.
Of the expected $2.33 billion in savings:
$230 million is coming from removal of HECS discounts and repayment bonuses
$900 million is coming from the two-year, 2 per cent efficiency dividend being applied to university funding, and
$1,200 million is coming from conversion of the Student Start-up Scholarship from a benefit to a loan.
Only one of these measures directly affects universities.
The other two affect students
Removal of the 10 per cent discount
on upfront payment of HECS-HELP will tend to affect wealthier students (or their families). In 2010, around 17 per cent of university students paid upfront and received a 20 per cent discount on HECS. (The discount was reduced to 10 per cent in 2012.) This savings measure targets students who have the capacity to pay upfront. They will no longer get a reward for doing so.
At the other end of the spectrum, converting
Student Start-up Scholarships
into income-contingent loans targets students who probably don't have the capacity to pay. Announced in the 2009-10 Budget, this scholarship was 'for all university students receiving income support' (this includes Youth Allowance, Austudy, or ABSTUDY Living Allowance).
Students who qualified would receive $2,254 in 2010, indexed thereafter based on the CPI. They could use this money to pay for costs associated with starting university – computer equipment, text books and the like. The government estimated a cost of $1,259.6 million over four years.
However, by the time legislation had passed the 2010 scholarship was
reduced by almost half
. Instead of $2,254, students would receive $1,300 in the first year ($2,128 in the second year). The reduction was made so that a package of related measures would be
revenue neutral
.
In 2011, the value of the Student Start-Up Scholarship
was reduced again
to $2,050 for 2012 (from $2,198 in 2011). The government confirmed
in Senate Estimates
that 177,000 higher education students would receive $150 less per year.
Pay back time
This week's announcement means that students receiving a Student Start-up Scholarship in future will have to pay it back via the Higher Education Loan Program (HELP). The government saves $1.2 billion, although this figure will effectively be added to the amount of outstanding HELP debt, which now stands at
more than $26.3 billion
.
Even taking into account these cuts, the government has shown that
overall funding for higher education is still increasing
.
Universities were the subject of savings measures in the Mid-Year Economic and Fiscal Outlook including a trimming of
.5 billion in research funding
. The latest measures target universities again, this time through an efficiency dividend.
But it is their students who are being asked to pay most of the bill, either sooner (if they pay upfront) or later (via the tax system).